(Adorned with faux Gothic vaulting and ornamentation, evoking an implacable divine authority, comparable with great Catholic cathedrals, the Boomchickapop Theatre is buzzing with expectation.)
(Lights; Near to deafening applause)
Announcer: Good evening and welcome to the 4th Annual THE THE SUPERB BLOG ACADEMY-INSTITUTE OF AWARDS FOR BLOGGING EXCELLENCE AWARDS, presented by RC Cola and The Paul Harvey Memorial and Endowment for the Blogging Arts.
(Somehow, the volume increases.)
Announcer: And now… here's the host for tonight's proceedings: NEIL PATRICK HARRIIIIIIIISSSSSSS!
(Along of the reverberation of the floridly crafted ceiling arches, the echo and volume of the applause seems to compact physical space like a vice.)
(Strings and horns erupt, cutting through the applause, playing a 50's style show-tune at breakneck tempo, accented with harmonic bleeps and bloops that represent the presence of the electric medium being celebrated. Harris, suddenly ascending from the podium begins his verse.)
Harris: Gooood day! Let's all say it the Paul Harvey way! Gooood day!  The blog is where everyone has got a say! We don't ask for much else! We needn't gone to CALEL! YALE, PRINCETON, UC SANTA CRUZ, we all get to comment on the news! It's bloooging! Ew baby, we're all oogling! Looky-me, I had a thought! You'll all hear it, like it or not!! It's bloooging! No time for slogging! Cause we all a flash in a pan, we're each our one and only fans, but (the tempo slows down to about half pace) EW BABY, AT LEAST I GOT MY DRINK, EW BABY, AT LEAST I GOT MY ARRRRCEEEEEEE!!!
(Applause again and it almost physically hurts)
Harris: Alright! Ladies and Gentles, it's I! You're man of the SOUR, the guy who always does these things, your lovable fancy man! I know, I know, they're gonna have to pay me to not do award show now, but hey, I guy needs a hobby and unfortunately I'm running out of space in my house for self-portraits.
(Neil does a ballet kick.)
Harris: So, I think you know why I would be invited to do a blogging awards show… I'm a narcissist! No, but seriously every man, woman and child enjoyed Dr. Horrible without a known exception.
(Another kick)
Harris: So, what's up for tonight? Tons of great prizes are being delivered to the all time greats in all of blogging without an conflicts of INTEREST!
(Kick, more applause, but now it's seems to be funneled in from the speakers)
Harris: Mkay, let's let us have it! Okay, our first award is presented by Jennifer Aniston and Jack Black!
(The body of Neil swiftly plummets into the floor via trap door, only to be regurgitated a few feet away from the podium. The stage set is constantly shifting in appearance, hypnotically shuffling between shapes and colors, styles and motifs. The audience is apparently unperturbed by this, perhaps only further enchanted as Aniston and Black make their way to the podium. Both Aniston and Black are exquisitely dressed. Aniston, accustomed to events such as these, strides with dignity, whereas Black seems to be deliberately walking so as to accentuate his belly.
Aniston: Good evening!
Black: …
Aniston: Is everyone excited to be at The Perbies, huh?
(Audience applause)
(Black doesn't applaud. He stares vacantly.)
Black: AAAAHHHHHHHHHHH!!
(Belting out a huge scream, Black only receives more adoration from and the audience.)
Aniston: Oh no!
Black: Check out my PROGRAMS!
(Walking toward the audience, again in the same awkward and unbecoming manner, Black proceeds to hand out flyers that extensively outline Jack Black-specific charities. Apparently, Jack Black will, out of pocket, pay for hundreds of Jack Black look-a-likes to go with him to remote villages in the south pacific and hand out fistfuls of American dollars.)
Aniston: What a great guuyyyyyy.
Black: I have long term appeal.
(Black air guitars.)
Black: So! On to the biz-nastry! Our first award of the evening is the coveted Best Leading Woman in Blog Award. This have been presented to some of the baddest gals in the biz-narsty, TILDA, MERRYL, JULIANNE! Who will join the chick-pantheon tonight?
Aniston: (fake throat clearing thing) Ahem.
(Black doesn't seem to notice the joke and moves right passed it.)
Black: Our nominees: Juks from "3 Human Races I Just Came Up With and Why I Don't Them" by Austen, Sophie Chiswell Math from "Villagers: Sophie Chiswell Math" by Anthony, and Helen Hunt from "Celebrity Acid Test – Film Edition" by Jeff.
(Aniston now assumes the vacant expression Black donned previously.)
Black: And the first Perbie of the evening goes to: Sophie Chiswell Math! Villagers!
(Anthony gives a nearby fancy dog a smooch on the cheek and begins to make his way through an endless sea of chairs. When finally reaching the stage, his pace shifts as he catches the eye of Neil Patrick Harris. He points. Neil points back. Anthony saunters slowly toward the podium, looking as though stunned to receive this honor.)
Anthony: Huh…
(Licking lips)
(Anthony looks up with a playful grin on his face, it's that looks we all know and love.)
Anthony: …uh…uh-huh…
(He keeps looking up, shifting his gaze from the right side of the ceiling to the left.)
Anthony: ….uh….yeeeaah…
(He crosses his arms, and rests his left elbow on his crossed arm and then rests his chin on his upturned hand. The audience recognizes this as his signature move, and goes completely insane. Anthony turns to inspect the opposite side of the auditorium, now it his hands on his hips. His head is turned at such a severe angle, the audience behind him can nearly see his Adam's Apple, which is a hard cider he brews and keeps in a small wooden barrel under his chin at all times.)
Anthony:….uh…YEEEAAAAHHHHH….
(The crowd could not be more in love with him. Several women approach the stage and propose to him in a cacophony of love-drenched expressions.)
Anthony: ….so…ummm…
(He looks up and grins. The audience can't stand it anymore. Cut to Martin Scorsese losing his mind. Forget the Oscars, this is what he's been waiting for.)
Anthony: Guys…
(Anthony looks at the camera, and beckons it closer with his finger, as a seductive lover would to her passion. The cameraman is compelled to zoom closer and closer, his olive tinted skin and brilliant hazel eyes becoming clearer and clearer. Those watching with 4k TVs in the country begin to weep uncontrollably.)
Anthony: ….
(Anthony opens his mouth, but right when he starts to say something, Neil Patrick catches his eye off to the side of the stage, and Anthony sees it. He points over to him, and beings laughing. Everyone knows what this means. This means everything to everyone. Anthony grabs his Perbie, which is a statue of Grandpa Fanny in a lounge chair, and shakes it to the sky. Each thrust emits a beam of light from the Perbie. Anthony accelerates his fist pumps with the audience roaring so loudly that every microphone begins to crumple. He stops and bends over, pumping his Perbie downwards. David Oyelowo begins to weep.)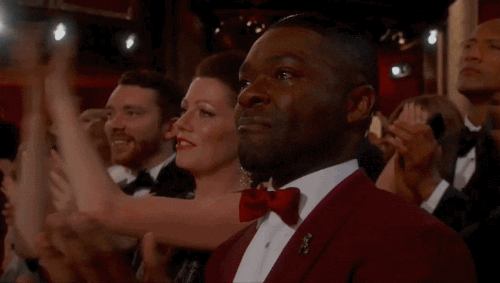 Anthony: I need everyone…..
(Anthony pauses, and smile-points to Neil Patrick Harris again.)
Anthony: …I need everyone in this room….in this NATION…to say it one time with me…..are you ready?
(Hugh Jackman climbs on top of his seat and begins squating in anticipation. Julianne Moore is behind him, and she cannot contain herself.)
Anthony: One……. two……
(He and the entire nations breathe in with him, consuming more oxygen in one moment than in the entire of history of the planet.)
Everyone: NOT MY CHIPPO, GRANDPAAAOOOOP!!!
Anthony: thankyouverymuchthismeansalottomegoodb–
(Music EXPLODES from directly above him as they blast him off the stage. Harris applauds and smiles warmly as he returns to his hosting station.)
Harris: Wow… I…
(Harris seems to be getting sincerely emotional. His eyes glisten.)
Harris: I've watched that guy for years and now… Oh man… What a way to start off the evening!
(Harris's gaze tends toward the monitors. He crosses and uncrosses his legs.)
Harris: We all know what a central and high position The Superb blogging holds in our culture. It's the way we literally frame and classify our world. Although, there are many voices in the blog-a-sphere, but when we think history, class and artistry, we invariably think The Superb.
(Applause)
Harris: This is an evening where the industry has an opportunity to thank those who make it all possible and who delight us with their outstanding behaviors. And now to present The Shortest The Superb Blog Entry Award, Jennifer Lopez and Chris Pine!
(Lopez and Pine amble up, as Harris goes from zero to full sprint and runs vertically up one of the marble columns until out of sight. Pine does a thing where he's pretending to limbo. Lopez catches him doing this and play-slaps his arm.)
Pine: Hello!
Lopez: It's honor to be presenting.
Pine: Well, if I may Jen… We're all very excited about your upcoming appearance in The Superb article: "Jennifer Lopez Bakes Herself Into A Giant Loaf of Bread".
(Audience doesn't clap, but applauds by making the applause noise with your breath when you polish an apple.)
Lopez: Thank you, Chris. I remember reading The Superb for the first time right after I had placed myself in a giant mixing bowl and turned it on. After a couple spins, I got out and picked up The Superb and I just imagined what they could do with this new project and Chris… we've had a lot of loafs!
Pine: You kneed to do this!
Lopez: Well, I'm just doing it for the doe!
Pine: That's what it's like to be in the upper crust.
Lopez: I'm really rising to the occasion.
Pine: I hope no one gets Sour-though!
Lopez: Chris, you have such a rye wit!
(Pine and Lopez continue to exchange bread puns for another 95 seconds. It doesn't appear to be scripted. The audience remains silent in rapt attention.)
Lopez: That's cause I go against the grain!
Pine: Everyone! Let's toast to the woman with the best buns in town!
Lopez: Oh, Chris! You're pita-ful!
(Pine wipes away a tear, he's laughing so hard.)
Pine: Okay, gotta… Gotta get it together.
Lopez: This where people like us come to have a good time, Chris!
Pine: So true!
Lopez: And tonight's nominees for The Shortest The Superb Blog Entry Award are "2 Chainz Goes Shopping" by Jeff and "A Guy Gets a Package" by Jeff.
Pine: And the winner…
(You can barely catch Pine crossing his fingers and saying "Please, please, please." under his breath. They open the envelope. Pine sees the winner. You can tell it's the one he wanted.)
Pine: "A Guy Gets a Package by Jeff!
Lopez: Yay!
(Jeff is somehow on stage before Lopez exclaims "Yay!" immediately after Pine's announcement. In his classic relaxed composure, he walks very slowly up to Pine and Lopez. He embraces Pine. They've clearly worked together before. He offers only a solemn nod to J. Lo. Jeff's demeanor, his dry-yet-humorous little reactions to receiving his reward elicits cascades of laughter. Jeff pretends that the award is so heavy and that he can't lift it. This sends Stallone over board.)
(Jeff does a travesty of a little girl's curtsy and skips around with the award. It works.)
(Neil almost steps in to direct Jeff toward the podium. But, he restrains himself. Jeff again assumes his usual neutral expression.)
Jeff: …
(The audience waits attentively.)
Jeff: …um… Cool….
(Jeff walks off stage.)
///
STAY TUNED FOR "THE BEST COMMENT AWARD" AND "THE FUNNIEST BLOG AWARD" IN PART 2…